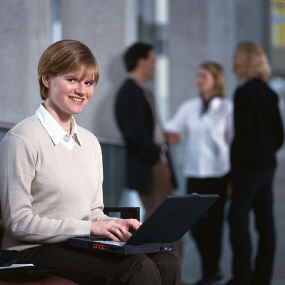 An online MBA is a Masters of Business Administration post graduate degree that can lead to a career in business management. An online MBA is designed for people who need the flexibility of taking classes on the Internet at their own pace and from any Internet connection. Some online MBA programs take about as much time to complete as standard in-class MBA programs, but there are also one year online MBA programs available.
Online MBA Rankings: 10 of the Best Places to Get an MBA Online
The following online MBA rankings are presented in alphabetical order:
Ashford University
A Master of Business Administration (MBA) degree from Ashford University allows you to put together a more personalized schedule by combining classes that apply towards your degree specialty, as well as nine upper level credits in one of six business concentrations. You will need 33 total credits to complete the MBA. The average cost at Ashford is about $7,800 per semester for tuition, along with additional fees for books and other needs.
Carnegie Mellon University
An MBA degree from Carnegie Mellon is offered through the Tepper School of Business, which is very highly rated. Tuition is estimated at between $27,000 and $29,000 for two semesters, which is a nine month period, not counting non-tuition fees such as housing, etc. This program is designed to take 30 months to complete.
Drexel University
MBAs can be earned at Drexel online through their MBA Anywhere curriculum, which is a two year program ranked 17 out of 22 by the Financial Times ranking system. Each student gets a customized program and potential students can enroll each year in March or September. Students in this program get the advantage of being locked into a tuition rate for their entire program. For the latest fees, check out their website for more information.
Everest University
Those seeking an MBA degree through Everest University can specialize in the areas of General Management, Human Resources Management, or International Business. The Everest University program features online classes and you don't need a GMAT to be admitted. Tuition costs range from $29,000 to $45,000 depending on the location the classes are taken in. To get the exact costs, you must download a chart from their site.
Grand Canyon University
This is a private Christian college, so prospective students should know this prior to entering their MBA program. It is consistently highly ranked by the U.S. News and Word Report's top 100 colleges. They offer specialization in the areas of finance, leadership, marketing, strategic, accounting and health systems for an MBA degree. Students enrolled in the MBA degree program will pay $1,200 per credit hour at the time of this article.
Penn State World Campus
Penn State online MBA program puts together special virtual teams during its two year schedule. This gives students an unheard of opportunity to work with leaders and business people from all over the world. They also have a record of more than 100 years of classes. Tuition for graduate work is $827 per credit hour.
Pepperdine University
The MBA program at Pepperdine costs an estimated $78,345 for the 24 month program and a GMAT is required for admission. They are regionally accredited by the Western Association of Schools and Colleges, with special accreditation by the Advance Collegiate Schools of Business (AACSB) for the MBA program degree.
Salem International University
The MBA degree program here consists of 36 credit hours with annual tuition fees of about $19,000, not including non-tuition fees. The program is estimated to take about 18 months to complete. The MBA program was made for those who already have a BA degree and want to get additional studies. Students must choose 21 credits of a core curriculum, as well as 15 credits in International Business or Health Care management.
Thunderbird School of Global Management
This school is ranked number one for international studies.  The MBA program is designed to last 28 months for the accelerated version. They specialize in international relationships with their students and faculty.
University of Florida
The MBA program at the University of Florida was ranked number one by the Economist magazine. The program is designed to last two years for students with any four year degree, but only one year if a student already has a business degree. Programs start in August and February. Tuition prices vary and can be accessed on their website.
Before enrolling in any online MBA program, it is wise to take a look at Online MBA Rankings to make sure the program you are enrolling in meets your academic and future career needs.