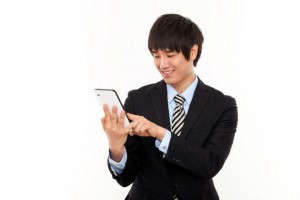 Whether you are an entrepreneur who is trying to learn more about business, or someone who is getting your degree to become more marketable in the corporate world, getting your MBA can have immense benefits. Luckily, now more than ever, technology has made getting your MBA a bit more manageable. There are plenty of devices, apps, and programs that help students manage their time, work on school projects, and learn and do more, right from the palm of their hands. Here's a look at the three top android apps for MBA students and how they can help get their degree.
Evernote
Evernote is not just popular for MBA students; it's popular for everyone. Evernote is the perfect app for taking notes in class, managing your class projects, keeping reminders for your personal life and much, much, more.
Evernote offers countless folder options, which is perfect for organizing your life. If you want to take detailed notes in class that only you can access, you can do so in one folder. However, if you have a group project due and you want to combine the notes of all of the members of your team, Evernote also allows this.
Furthermore, part of being an MBA student means that you will be remembering names and information about people. With Evernote, you can easily and conveniently do this in its own folder.
The potential for Evernote is nearly endless. And with its syncing capabilities, you can assure that all of your information will be right on any of your Android devices, when you need it most.
SimpleMind
If you are an MBA student who has a tendency of having a lot of ideas, but a difficult time putting them all down and organizing them in a way that make sense to everyone else, consider downloading SimpleMind to your Android device.
SimpleMind is perfect for organizing your thoughts and putting them down on paper. Furthermore, you can easily share your thoughts with others, so they can see what you are thinking and add to it on their own. SimpleMind comes in handy, especially when planning huge projects that are important for your MBA.
MBA Skool
Don't be misled by the grammar errors in the title of this app. MBA Skool offers a comprehensive application that is perfect for any MBA student. With its easy interface, users can look up articles that are relevant in today's business, search for definitions, find reviews on companies and brands and more.
As an MBA student, you will be expected to know terms and information for your given career. Instead of trying to memorize that impossible amount of knowledge, having MBA Skool on your Android device gives you all you could ever need right in the palm of your hand. Whenever needing to recall particular information or look something up of importance, you can reference MBA Skool and find your answer. Not only does that app have an outstanding rating in the Google Play store, but it also ranks as the 12th most popular app for business professionals.
MBA students have a variety of resources available to them to utilize when getting their MBA degree. If you are in the process of getting your MBA, or heading back to school in the fall, be sure to have these apps on your Android phone and it'll have you prepared for whatever your MBA courses will throw at you.