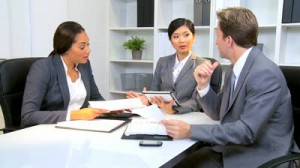 An online executive MBA degree is designed for the working professional who would like to add a solid educational background to their business experience. Throughout the online MBA program, busy executives build upon their current knowledge while implementing new ideas and techniques into their current position in order to discover the methods that work best for their company. Students who participate in this program benefit from training in courses such as finance management, entrepreneurship and personal branding. Additionally, a student who attends online classes full-time can complete this degree program in as little as one year, and the flexible format of this degree can allow for working students to take up to four years to finish.
Because of the high standards that an online executive MBA program expects their students and staff to uphold, the application process is competitive. Generally, prospective students are advised to have completed an undergraduate degree and have several years of professional experience in a management or leadership position. Additionally, they may be expected to provide proof of their achievements through personal reference letters and transcripts. Students who do well in this program are self-motivated, ambitious and leaders in their current position within a company. After the completion of this degree, graduates find that they have become eligible for positions of higher authority within the business community that can enable them to ascend the corporate ladder.
How to Find the Top Online Executive MBA Programs
Finding the right online program is essential to obtaining a quality education that will enable a person to progress on their chosen career path. For this reason, it is important to examine the programs from several of the leading universities in order to determine the differences that make a program truly stand out. For example, the best online executive MBA degrees should always have a global component that teaches students about various business practices around the world. They should also be accredited and have established a high ranking among other programs of this type.
In order to get started on finding the best online executive MBA programs, a person may want to consider checking out the online MBA degree offered at Washington State University. This program offers an introduction to global business practices by allowing for their students to travel to China or Switzerland in order to speak with international business leaders while observing the practices of global corporations. West Virginia University also offers a quality program that encourages their students to put their new skills to the test by participating in a capital venture fair that includes setting a business plan into motion. When selecting a program, it is important to look for a school that has an established reputation for using innovative methods that encourage student involvement for the best learning opportunities.
Careers and Salaries for Individuals with Online Executive MBA Degrees
After graduation, students who earn an executive MBA degree can enjoy substantial benefits as they begin to become eligible for promotions, higher salaries and more responsibilities in their companies. Sales management is one of the most common online executive MBA careers that a person can move into upon graduation. Sales managers can expect to make a substantial salary that is boosted by bonuses when their team meets their goals. For this reason, their salary may range from $60,000 up to $150,000. Online executive MBA salaries will vary according to the complexity of the business that a person manages as well as the profit margins. However, graduates with this degree can enjoy a salary that reflects their hard work in a career as a CEO of a major corporation or business. When a student obtains an online executive MBA, the sky is the limit as far as the benefits that they will receive as they are able to put their knowledge and skills to work as they rise to the top of their company.
Additional Resource: Online MBA Rankings