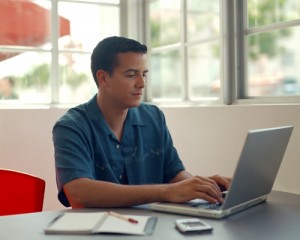 Students who are unable to take brick and mortar classes, or who simply enjoy the atmosphere of online classes, may turn to online MBA courses to complete a degree. The courses may offer the same admission criteria as other schools, as well as the same high quality professors. Online MBA Courses can prepare students for careers in finance, operations and management.
Five Popular Online MBA Courses
Students pursuing an MBA online will take Online MBA courses in Entrepreneurship and its role in business administration. Because entrepreneurship is such a driving force in the economy today, this course will cover the entire process of creating a solid foundation for a strong, lasting company. The class will cover the essential components necessary to maintaining a business, requiring classes such as Professional Development, Organizational Behavior and Legal Environment of Business. Students will be required to learn about the value of leadership in building a business from the ground up.
Another significant online MBA course that many schools offer is a course in  Leadership. Though it is a basic course with no prerequisites, this course puts students in the position of a manager who must make decisions for an entire organization. Students will be expected to learn about strategic planning and management skills. Penn State University offers an online program with an excellent Leadership course. The iMBA program uses teams to foster leadership skills in addition to in-depth discussion through forums and other conferencing avenues.
Marketing is a standard class for any online MBA program. This course is valuable because it deals with issues that managers typically face in the process of operational and strategic planning. Students will learn about buyer psychology and behavior, pricing and how markets are segmented. Distribution, the role of technology and promotion are also covered in the course material. Some classes will cover international marketing and dealing with cultural differences in the process of promotion. Prerequisites for Marketing typically include Professional Development and Organizational Behavior.
Online MBA students are typically required to study organizational behavior and psychology. This is usually an introduction course that focuses on theories of human behavior in regards to organizational interaction. Students will be surprised to learn the way humans behave in a business setting and as one corporate entity. This class will also touch on ways to motivate and satisfy employees in addition to providing strong, ethical leadership. This is a valuable course because it stresses the importance of group dynamics and communication skills. This is usually a prerequisite for other business courses.
Some schools will offer online MBA course in tracks, such as an Organizational Management track.  This set of online MBA courses helps students become strong managers who can withstand the pressures that come along with working in the business world and are meant to help students provide leadership and work with and under others. Norwich University is an example of a school that offers an Organizational Management track, and their online MBA program can be completed in one year and six months.
Additional Resource: Online MBA Rankings